Pirate's Cove Online Slots
A 5 Reel 20 Payline Slot Machine
It doesn't matter if your idea of a pirate is Johnny Depp or someone decidedly more hairy, Pirate's Cove online slots by Wizard Gaming features all you'd expect from a sea adventure. Pirate's Cove video slot has all sorts of hidden treasure, such as bonus rounds where you can dig up to 20,000 coins, wilds, and scatter symbols within its 5 reels and 20 paylines.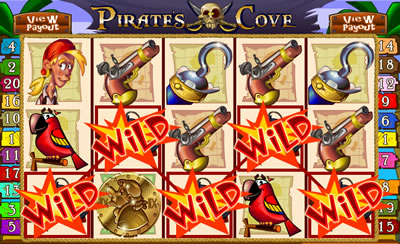 Win Pirate's Cove bonus rounds!
Keep your eyes on the horizon for the Captain, the Pirate Maiden, and the Ugly Pirate as they are the highest-awarding, non-feature symbols in Pirate's Cove slots. And, of course, it wouldn't be Wizard's Gaming video slots if it didn't have those valuable feature symbols (described below).
The Pirate's Cove online slots wagering is easy enough for any mate; just select the adjustable coin amounts ranging from 0.01 to 1.00 credits, from 1 to 10 coins per line, and a maximum bet of 200.00 credits per game.
The symbols in Pirate's Cove slots pay from left to right, except for the Ship scatter symbol which can pay anywhere and the Treasure bonus symbol.
Pirate's Cove Online Slots Wild Symbol:
The Cannon symbol is the Wild symbol.
The wild Cannon substitutes all symbols except the pirate's scatter and bonus symbols.
The Cannon symbol is your surefire way to the mother-load; when five Cannons fire on a payline, you score 5,000 coins!
Scatter Symbol in Pirate's Cove Slots:
The Pirate Ship symbol is the Scatter symbol.
Three or more Ship scatter symbols appearing on any reels have a pay out.
Scatter wins pay as follows: 3 Pirate Ship symbols triple your bet, 4 Pirate Ship symbols multiply your bet by 15x, and 5 Pirate Ship symbols multiply your bet 150x!
Bonus Symbol in Pirate's Cove Slots
The Treasure Chest filled with coins and jewelry is the Bonus symbol. The Chest bonus symbol appears on reels 2, 3, and 4 only. When the 3 Treasure Chest symbols appear, the Buried Treasure Bonus is triggered.
The Buried Treasure Bonus in Pirate's Cove Online Slots
When three Treasure Chests appear on reels 2, 3, and 4, the Buried Treasure Bonus Round is activated:
A new screen will appear with a total of 9 X's, on and by an island.
Use your shovel pointer to select each X to reveal a prize award.
Keep digging; until 3 to 5 prizes are awarded, or you find the Treasure Chest.
Find the buried Treasure Chest and win the jackpot; all the buried treasure prizes!
After digging up the Pirate's treasure chest, you can be awarded up to 20,000 coins!So, don on your eye patch and practice your swagger, because it's your turn to dig up the treasures in Pirate's Cove online slots.
Play Pirate's Cove Online Slots at the Following Recommended Casinos