Odin's Loot Online Slots
A 3 Reels 1 Payline Slot Machine
Odin's Loot online slots from Wizard Gaming, finally "Wild Multiplier" and "3 Reel 1 payline slot" in the same sentence. This is pretty rare, so I'll type it again. Odin's Loot slot game not only features exceptionally high payouts, but it also has a wild multiplier with 3 times payouts on its 3 reels and 1 payline!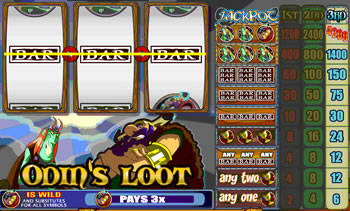 Win the Odin's Loot 4200 coin jackpot!
Odin's Loot slots have a pay table that lights up so you know how many coins you're betting. You can customize the "Auto Play" feature to stop when a Jackpot is won, if a win exceeds a certain value, or from 5 to 500 spins. You set it how you want it.
Coin sizes in Odin's Loot slots range from $.25 to $5.00, the minimum bet is $.25 when one coin is played, and up to $15.00 a spin when 3 coins are played at max bet.
Wild Symbol in Odin's Loot Slots:
Odin, the impressive Viking with the arm cuff, is the Wild symbol.
He appears on all reels, substitutes for all symbols, and triples all bets.
With a 3 coin bet, one Odin and two Loki symbols; win the Jackpot of 4200 coins!
Symbols found in Odin's Loot Online Slots:
Loki Symbol:This guy's skin is green for a reason--because if he fills up your payline, he's full of cash (1400 coins, in fact). And if you can introduce Odin into the mix, Loki will give you the 4200 jackpot.
Bars Symbols:These behave like any bars (if they behave at all). Get three of a kind or three of any kind and they'll payout from 12 to 150 coins.
Goblet Symbol:Take a drink--you know you're thirsty. Goblets will pay out every time they hit the payline whether they show up all alone or in a threesome. Whenever they show up, they will at least double what you put in, or six coins. And remember, Odin can substitute, and triple the payout for 18 coins, for the Goblet, so it increases your chance of winning!
With music reminiscent of the Harry Potter movies, Wizard Gaming offers something special in Odin's Loot slots, a powerful punch. When this high-variance slot pays out, you'll notice, just don't give up before then.
Play Odin's Loot online slots and grab those triple payouts!
Play Odin's Loot Online Slots at the Following Recommended Casinos