Mystic Fortune Online Slots
Peering inside the crystal ball I see untold fortune in your future. May good spirits be on your side in this 5 reels with 15 pay-lines online video slots game, Mystic Fortune;
it is not only supernatural, but super fun as well. Its Boss software has a progressive jackpot you could win or just have fun with the bonus game and free spins towards receiving free cash.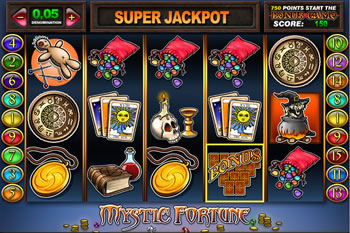 There are three jackpots in Mystic Fortune, the values of which are shown in the upper game display. In order to win a jackpot, a player must wager the maximum number of credits per line.
Betting limits range from 0.01 credits up to 150.00 credits. Bet the maximum amount of credits for a chance to win up to 1,000 times your wager!
Wild symbols substitute for all symbols, except the scatter, jackpot and bonus symbols.
Free Spins:
Three scatter symbols start 5 free spins.

Four scatters start 10 free spins.

Five scatters start 25 free spins.
Bonus Game:
Accumulating 750 points starts the bonus game.

The objective of this bonus game; is to pick as many tarot cards without coming across the Jester.

Players can win a total of 10 – 5,900 credits depending on their success.
So grab the Ouija board, channel the spirits and see what this Mystic Fortune online slots game has in store for you!