Mysterious Mansion Online Slots
Play Mysterious Mansion Slots at the Following Recommended Casino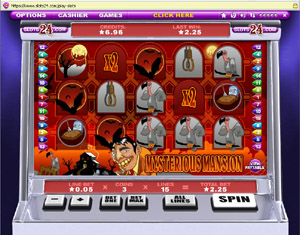 Presenting spooky hunchbacked, yellow teethed, one glass eyed man! Mysterious Mansion is a fun and creepy video slot with ghosts, graves, and pumpkins. The slot boasts 15 lines of play over 5 different reels and a total of 14 different symbols.
Patterns galore, you can win on one of 8 possible patterns with tons of different symbol combinations on each. A total of 3 coins can be played per line, making it possible to play 45 coins at a time! This means you can play anywhere from 1 cent with 1 line and coin all the way up to the max everything reaching a massive $45 a spin. The choices are great so hopefully you're not an indecisive person, you may never make it to the actual gambling part!
Game speed and color can be changed in the options, you can get to these by clicking the options tab in the top left corner of the screen. Sound volume can also be changed from here and is not just limited to muting, you can change background volume, reel volume, all sorts of stuff.
Wild haunted houses are around and will substitute for any symbol excluding multipliers. Multipliers will pay any winning combination x2 or x3 depending on the one and excluding wilds. Five wilds win 8250 coins! Not far behind are the ghosts which pay an also gigantic 6000 coins. Mysterious Mansion offers lots of big jackpots for the picking.
Slots24