Monster Money Online Slots
A 5 Reel 25 Payline Slot Machine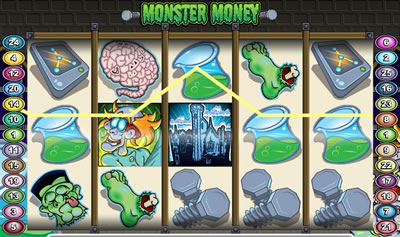 Night of the Living Scatter? Revenge of the Wild? Friday the 13th: Bonus Edition? Call this what you will, but Vegas Tech named it Monster Money Slots for a reason. This 5 reel 25 payline video slot is as insane as the Professor himself, with a hauntingly impressive bonus game, full of wilds, scatters, and 5,000 coin jackpot that won't scare anyone away.
This Professor's mind is as wild and scattered as the symbols on the reels of this Vegas Tech Monster Money slot--but that doesn't mean there aren't plenty of other props, characters, and extras to round out his evil plan.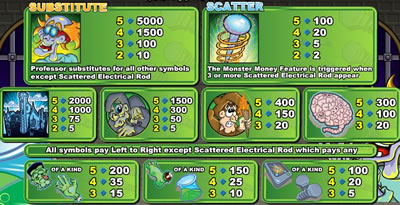 The Castle, the Hunchback, and the Scared Civilian are not Monster Money slot symbols you should run from, and you may find that the bits and pieces in the other symbols (albeit quite literally) add up rather quickly in this low variance game.
Monster Money online slots wagering brings coin sizes that plunk down from 0.01 to 10.00 credits with 1 coins per line, and play on 1 or all 25 gruesome lines.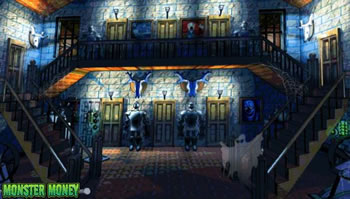 If the Monster Money slots bets frighten you easily, the minimum bet is as low as 0.01 credits when you bet one line, and if you "ain't afraid of no ghosts", you can pull out all the stops for a maximum bet of $250.
All Monster Money slot play is from left to right with the exception of the electrical rod scatter, which strikes the reels at random with possible payouts.
Monster Money Wild Symbol
The Professor symbol is, understandably, the Wild symbol. I don't believe he needs a further scary description.
He lurks on every reel, substituting for every symbol except for the Electrical Rod scatter.
The Professor rules the biggest payout, much like he does everything in his creepy castle. If you catch him on five reels at the same time, he'll pay out 5,000 coins!
Monster Money Scatter Symbol
The Electrical Rod symbol is the Scatter.
These Rod scatters can appear on every reel, and will pay out with just Two.
The maximum pay with the Electrical scatters is 100x your wager.
The Monster Money Bonus Feature is activated when 3 or more Electrical Rods appear on the reels at the same time.
Monster Money Bonus Feature
Get ready for some frighteningly good graphics as you navigate your way through this monster bonus feature, triggered by three or more Electrical Rod scatter symbols.
A new screen will appear showing 8 doors in a creepy dungeon.
The object of this feature is to select 5 of the 8 available doors for maximum prizes.
The doors will glow as your mouse is hovered over them, and prizes will awaken as you select which doors you want.
When the Professor creeps out from a door, prizes are Tripled!
For once you'll be happy to see mad professors, hunchbacks, and Frankenstein pieces in your rearview mirror. Let your adventure begin with Monster Money online slots.