Martian Landing Online Slots
3 reel, 8 payline, progressive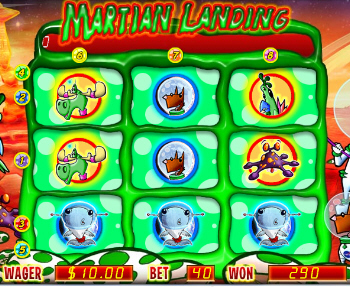 Martian Landing is a slot game of a different color... mostly green! There are 3 reels and 8 paylines in this progressive jackpot game. The coin denominations are 1¢, 2¢, 5¢, 10¢, 25¢, 50¢, and $1. Along with the usual payouts for a 3 of a kind lineup, it also has several bonus games in the mix as well. If you line up certain icons in particular patterns bonus games are awarded.
If you line up 4 Hot Dog icons on the top, bottom and sides middle square, you're awarded 9 free spins. When the Brain Sucker icon (gotta love those aliens!) forms an 'X', then the Brain Blitz is activated.
This is where you choose from 9 glass lab jars that award points or multipliers until you pick the green brain. Everyone knows that a green brain is a bad thing and in this case, it stops the Brain Blitz dead in its tracks.
Then there is the All Aliens bonus. Aliens are circled in red so it's easy to tell when this bonus is hit. Just line up all red circles in the 9 squares and you receive a 16x your total bet bonus!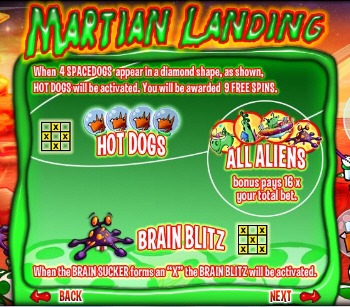 And if all of that weren't enough, this is also a progressive game! Just get the G-FED icon in all nine squares while playing maximum bet for your coin denomination and you win the progressive jackpot!
I really enjoyed playing this game. It certainly is not your normal every day garden variety Alien game. Give it a try… before the brain suckers come to find you!!