Madame Millions Online Slots
Play Madame Millions Slots at the Following Recommended Casino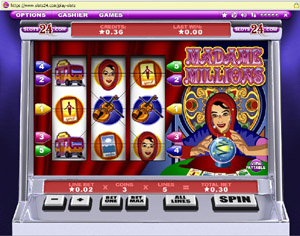 Does Madame see millions in your future? Take a look into her crystal ball playing this engrossing gypsy-esque 3 reel slot. 3 coins and 5 paylines later you could end up with a boat load of cash. Betting is limited to $15 max. Coins are valued from one cent to one dollar, with 5 values in between. Madame Millions uses 15 different symbols all on 3 lines.
Crystal balls are wild and can be substituted for any of the 14 other symbols to make a paying combination. Three crystal balls pay 3900 coins if landed on in a row! This is only possible when betting max coins. Pay out is dependant on the size of the coin which is bet. The tarot card set is the next highest symbol you can hit, this pays 750 coins when 3 are made.
Audio is lackluster and provides us with a wind chime, gusts of wind, and a giant gong smash when you spin. Once again this is a minor problem, sound is easily muted or can be turned down under the options tab. From the options tab you can also change the game color and speed the reel speed up or down. Overall game play is good, there is not customer service/help button in game, so if you are ever to run into any problems you will need to go to the lobby and click support. See what Madame has in store for you!