Lucky Stars Online Slots
A 5 Reel 5 Payline Slot Machine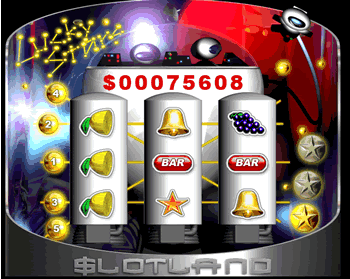 Coin size are 50 cents, $1.00 and $2.00.
You can play 1 to 5 lines.
You can bet 0, 1, 2, or 4 coins on each of the five (5) lines.
You can choose to play a different amount on each line.
For example: Line 1 through you can bet $1.00 but on line 5 you can bet $2.00.
Max bet of $2.00 on winning line, pays out the Jackpot.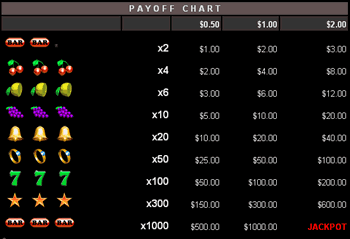 There are 2 exciting bonus features in this game.
Lucky Stars has a "hold" feature that appears randomly and may increase your chance to win. When the 'hold' feature appears, you are allowed to hold any of the 3 reels by ticking the checkboxes below the reel. The hold feature may appear on any spin. This allows a possibility of several holds in a row allowing you to hold the reels more than once, thus multiplying your possible wins!
Bonus Round
3 star medals are located next to the slot's reels on the right side, below the lever. You may win a bonus spin when lighting all three of these star medals. Every time 3 or more stars appear in any of the slot's reel, one of the bonus star medals is highlighted. The bonus spin is just like any other spin however two exceptions apply:
You are not allowed to change your bets, and
winnings in the bonus spin are multiplied by 10!
Not every bonus spin will win, but the spins that do win may be quite large. For this reason, it may be a wise strategy to place maximum bets when 2 of the star medals are already highlighted and you only need the third one to trigger the bonus round!
Lucky Stars slot is part of the new Slotland Mobile Games
Slotland Mobile Games are a breakthrough concept of slots and video poker games that can be played on virtually any cell phone, mobile phone, smart phone, or PDA which supports Java.