Lizard Lounge Online Slots
A 5 Reel 20 Payline Slot Machine
Retreat back into the 80's with this superbly identifying Lizard Lounge online slots game. Wizard Gaming sets its 5 reel 20 payline Lizard Lounge video slot in the middle of the Miami heat, with wilds, bonus games, scatters, and a chance to live it up with the 2,500 coin jackpot!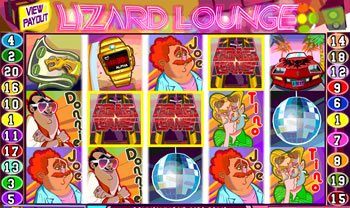 Win Lizard Lounge bonus games!
Get into the rhythm of the night and get down and dirty with your Miami vices. Lizard Lounge slots has it all--white jackets, pink t-shirts, fruity drinks, big earrings, and digital watches. You won't find many scales or tales here (at least not at first glance), so don't be afraid to shake it up!
You'll need at least three consecutive lizard-style symbols to win, except for the red Firebird car, which only needs 2. After all, it's the 80s.
In the Lizard Lounge online slots wagering, players can select coin amounts from 0.01 to 0.50 credits, and choose from 1 to 10 coins per line, making the maximum bet 200.00 credits per game. All Lizard Lounge slots symbols pay from left to right except bonus and scatter symbols which may pay anywhere.
The Wild Symbol in Lizard Lounge Online Slots:
The red Firebird Car symbol is the Wild symbol.
The red Car substitutes for all symbols except for the bonus and scatter symbols.
If you can park 5 Firebirds on a payline, you'll win 2,500 coins!
Scatter Symbol in Lizard Lounge Slots
The Disco Girl (with the blue earrings) symbol is the scatter symbol.
Three or more Disco Girl scatters have a pay anywhere on the five reels.
Three Disco Girl scatters pay out 3x the bet, 4 Disco Girls pay out 12x, and 5 Disco Girl symbols pay out 120x your bet!
The Bonus Symbol in Lizard Lounge Slots
The Night Club symbol is the Bonus symbol.
The Night Club Bonus symbol appears on reels 2, 3, and 4 only.
When 3 Night Club Bonus symbols appear; The Lizard Lounge Bonus is triggered.
Lizard Lounge Online Slots Bonus Game
The Lizard Lounge Bonus Game is triggered by three Night Club symbols scattered anywhere on reels 2, 3, and 4:
A new screen will appear with a choice of 7 dancing silhouettes from which to choose.
With each silhouette selected; you have a chance to win a Bonus prize, a Jackpot Kiss, or a Booby prize (and not the good kind).
If you select a silhouette with a Bonus prize, you'll be allowed to pick another until the game ends.
The Lizard Lounge Bonus ends when the Jackpot or the Booby prize is revealed.
Dancing isn't a prerequisite to play, although you may find yourself doing it anyway, since the music is straight out of the Big Hair Era. Get your groove on with Lizard Lounge online slots!
Play Lizard Lounge Online Slots at the Following Recommended Casinos