Lasseters Gold Online Slots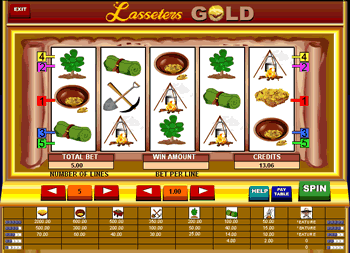 Lasseters Gold - 5 reel, 5 paylines with bonus round.
Coin sizes range from 1 cent to $1.00.
You can play from 1 to 5 lines be sure to play all 5 lines for best results.
Lasseters Gold is also available in the Shockwave format.
The face of Lasseter, the old gold prospector, is the feature game symbol.
When three or more Lasseters appear on a line which you are playing the feature game will activate.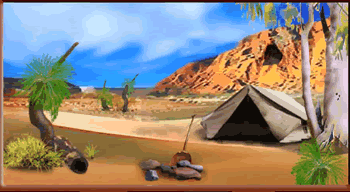 • Lasseter will welcome you into his camp and ask you to help him find the gold "reef" he has lost.
• As you move your mouse over the picture of Lasseters Campsite, you will see possible hiding places highlighted. Choose one of these places by clicking on it.
• If you don't hurry up Lasseter will make a helpful suggestion (but don't always believe him - if he really knew where the gold was he wouldn't ask for your help!)
• Once you choose, a bolt of lightning will reveal where the gold reef was located, and your prize will reveal itself on the top left of the screen.
Hit 5 Piles of Gold symbols to win $2000.00 on a $5.00 bet!!!
Lasseters Gold is a fun game to play, the bed roll and camp fire pay for hitting just 2. Find the gold reef during the bonus round and win your own gold!!