Knockout Online Slots
A 5 Reels 15 Payline Slot Machine
See if you can make it in the ring with the heavyweights in Wizard Gaming's Knockout video slot; every round is decided by a spin of the 5 reels and 15 paylines and you'll have the chance to knock out a few bonus rounds, wilds, scatters, and a chance to wear the 10,000 coin belt!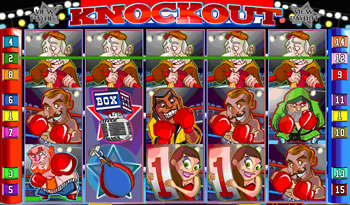 Win Knockout bonus rounds!
With Knockout slots you can get all the gain without the pain, and keep your teeth too. Just make sure to hydrate, stay focused, and know where to land your next uppercut. Can you hear your theme song playing in the background?
To wager with Knockout online slots, select coin amounts ranging from 0.01 to 0.50 credits, and up to 10 coins per line, with a maximum bet of 150.00 credits per round, or game
All the Knockout slots symbols pay from left to right except Boxer scatter symbols which pay anywhere, and the bonus symbol. You'll need at least three consecutive symbols for a payout, except in the case of the wild, when you'll only need two if there happens to be a scatter in front of it on a payline.
Knockout Online Slots Wild Symbol:
The Bearded Boxer (with the hairy chest) is the wild.
The wild Bearded Boxer substitutes all symbols except the Boxer scatter and the Bonus symbols.
It's worth watching this Wild after a win, take my word for it.
Knockout Slots Scatter Symbol
When 3 or more Robed Boxer (with the winning smile) symbols appear on any reels, their wins are multiplied by the total bet. When 3 Robed Boxers appear; win 2x the total bet. When 4 Robed Boxers appear; win 20x your total bet. When 5 Robed Boxers appear; you'll win 100x your total bet!
Bonus Symbol in Knockout Slots:
The red Boxing Glove is the Bonus symbol.
The Boxing Glove Bonus symbol appears on reels 2, 3, and 4 only.
When the 3 Boxing Glove Bonus symbols appear; the Fight Night Bonus Round is triggered.
The Fight Night Bonus Round in Knockout Online Slots
When three Boxing Gloves appear on reels 2, 3, and 4, the Fight Night Bonus Round is activated:
A new screen will appear, with the outline of your opponent to the left of the screen.
On the outline of your opponent, you'll see six stars indicating where you will place your punches.
If you select a star and find a bonus win amount, it will be added to your total winnings and you can continue to play by selecting another star.
If your punch lands on the Booby Prize the game ends and all prizes won are awarded.
If your punch lands a Jackpot (10,000 coins!), the game ends.
You've been training for this, whether you've tackled those famous stairs in Philadelphia or not. If you're not playing for Adrienne, at least play for yourself!
Round 1 starts any minute, so get loosened up and play Knockout online slots.
Play Knockout Online Slots at the Following Recommended Casinos