Knights of Glory Online Slots
A 5 Reel 15 Payline Slot Machine
You too can share in their triumphs and defeats in Boss Media's Knights of Glory slots; where your battlefield is in its 5 reels and 15 pay-lines full of wilds, free spins, a jackpot to be won and bonus rounds to win.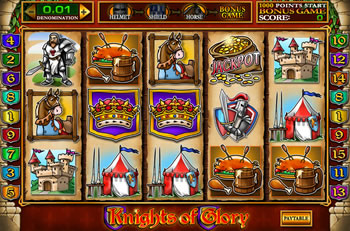 Win Free Spins, Trigger a Bonus Round and a Shot at the Jackpot!
In medieval times, knights had to continually prove themselves on the battlefield, shining armor or not. They earned each victory with sheer strength, grit and loyalty. The same goes in the Knights of Glory slot game.
The Knights of Glory wagering; select the coin amounts ranging from 0.01 to 1.00 credits per line with a maximum bet of 90.00 credits per game. All symbols pay from left to right except bonus and free spin symbols which may pay anywhere.
Knights of Glory Online Slots Wild Symbol
The fearless Prince with his sword raised is the wild.
The Prince wild substitutes all symbols except jackpot, bonus and free spins symbols.
Knights of Glory Jackpot Symbol
The stack of Gold Coins Jackpot is the jackpot symbol.
Make the max bet per line and get 5 jackpot symbols on a pay-line to win the Jackpot!
All guts, all glory if you play the maximum number of credits per line in Knights of Glory slots, you'll have a chance to win up to 10,000 credits in the Grand Jackpot.
Knights of Glory Free Spins Symbol
The spiked Mace is the free spins symbol. Three or more mace symbols triggers free games.
Bonus Points Symbol:
The Jousting Knight is the bonus symbol.
Receive 150 bonus points for each Jousting Knight symbol that appears.
Every 250 points gives you a story line and an item for jousting.
The Jousting Bonus Round is triggered after reaching 1,000 bonus points.
Knights of Glory Slots Free Spins
When 3 or more spiked Mace symbols appear; free spins are activated. 3 spiked Mace symbols appearing awards 8 free spins. When 4 Mace symbols appear 15 free spins are awarded. When 5 Mace symbols appear, 30 free games are awarded!
Knights of Glory Online Slots Jousting Bonus Round
When 1,000 bonus points are reached, the Jousting bonus round is triggered.
A new screen will appear with a choice of 3 Knights to joust against; choose 1.
Another new screen will appear with a jousting arena in front of the castle's royalty.
When your jousting knight knocks the opponent from his horse, a prize is awarded and you will go on to round 2. And so on through the rounds, if you win.
When your jousting knight is knocked off, a prize is awarded and the game ends.
Reach the final jousting round and win 10,000 coins!
A medieval themed game wouldn't be complete without a jousting match, so make sure you pick a winner in the Bonus Game for a chance at grand prizes.
Play in the good company of Knights by playing Knights of Glory online slots.
Play Knights of Glory Online Slots at the Following Recommended Casinos