Kitty Cash Online Slots
A 3 Reels 1 Payline Slot Machine
Talk about a purr-fect online slot! Wizard Gaming's Kitty Cash has it all in its 3 reels and 1 payline, with wilds, multipliers, and a jackpot worth up to 2000 coins! It also features some of the most adorable felines you'll ever find chasing around a slot reel.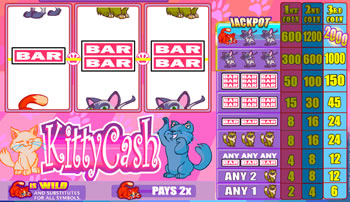 Win a Kitty Cash 2000 coin jackpot!
The cat theme doesn't stop with the name or the symbols-just listen closely to the reels as they spin. You heard it right-they purr!
The Kitty Cash slots game pay table lights up according to your bet. Don't forget the fully customized Auto Play feature; you can set it to play from 5 to 500 spins. You can also program it to stop when a Jackpot is won or if a win exceeds a certain value, starting with 100 coins.
The Kitty Cash online slots coin sizes are $.25, $.50, and $1.00. The minimum bet is $.25 when one coin is played, and up to $3.00 a spin when the maximum of three coins are played.
The Wild Symbol in Kitty Cash Slot:
The Orange Cat symbol is the wild.
She appears on all reels, replaces all symbols, and doubles your pet...errrr...bet.
If you can get her to play nicely with two Siamese cats, she can score you the maximum jackpot of up to 2000 coins!
Kitty Cash slots symbols you'll want to cuddle:
Siamese Cat symbol;This one is a tricky one. Your goal is to line up three of him on your payline (for the second highest jackpot of 1000 coins). If you can manage two Siamese Cats and one Orange Cat, you've got the perfect storm of cuteness--and 2000 extra coins in your pocket.
Bar symbols;feature the fairly standard one-, two-, and three-stacked bars, Kitty Cash slots uses this symbol like most slots do. Whether you get three of a kind or three of any kind, they'll payout from 4 to 150 coins, depending on your coin amount.
Mustard Cat symbol;(It's the brown one). She's a happy cat--and she's willing to dole out lovin' wherever she goes. Just one of her on the payline will double your bet and the payouts will continue to double for every additional Mustard Cat you can pull to the line (up to 24 coins). Remember, the Orange Cat can substitute for (and double) this one, so you have even more chances to win!
The Kitty Cash online slots game rubbed my fur the right way. No need to yell "Meow" for this slot game-it will do it for you every time you win!
Play Kitty Cash Online Slots at the Following Recommended Casinos