Kanga Cash Online Slots
Kanga Cash - A 5 Reel 9 Payline Slot Machine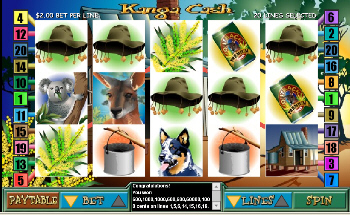 Kanga Cash is a 5 reel, 20 payline game with a bonus feature that has you panning for gold nuggets while playing at Lasseters casinos.
The coin sizes for this game are 1¢, 2¢, 3¢, 5¢, 10¢, 20¢, 50¢, $1, and $2 per line.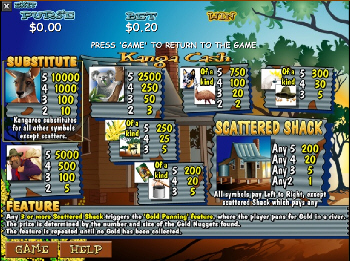 You can play from 1 to 20 lines but your best bet is always to play maximum lines and coins, no matter what coin size to take full advantage of the game features, bonus rounds and payouts.
The Scattered Shack is the scatter symbol and multiplies payouts depending on the number of shacks;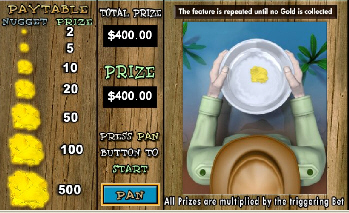 2x for 2 shacks
5x for 3 shacks
20x for 4 shacks
200x for 5 shacks
Three or more shacks will also trigger the gold panning bonus round.
Once the feature game is triggered you are taken to a screen where you pan for gold. The payout is determined by nugget size.
You pan for gold until your pan comes up empty. Once that happens, the feature game is over and you are returned to the regular game.
I was playing 10¢ a line and hit 5 miners which paid $500. I also had several good payouts while panning for gold.
Give this game a try; you'll be panning for gold nuggets and making a nice profit in no time!