Jungle King Online Slots
A 5 Reel 25 Payline Slot Machine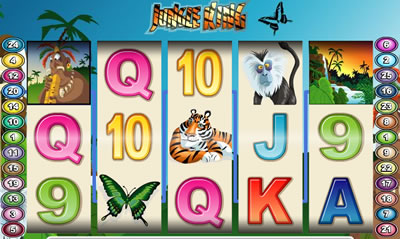 Introducing Jungle King, a 5 reel 25 payline Vegas Technology video slot, and this one has doubling wilds, scatters, bonuses, and a 7,500 coin jackpot swinging from its vines! The lion may reign in other parts of the world, but in the online video slots arena, the role is played by a scantily clad, yet lightly be-feathered musician.
With colorful graphics and nearly smiling wildlife, Jungle King online slots make the wilderness seem like a friendly, welcoming place. This jungle's most generous inhabitants are the Tiger and the Monkey, followed closely by the Flower and the Butterfly.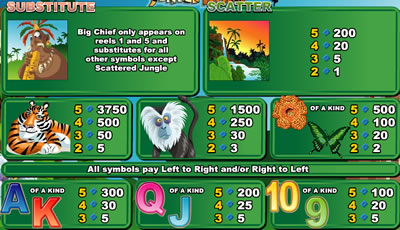 The Jungle King online slots wagering coin sizes range from 0.01 to 10.00 credits, with 1-coin per line. You can place your bet with 1 or all 25 lines (and every value in between), where the minimum bet is 0.25 credits when you bet all lines at $0.01, and at $10.00 a line the maximum bet is $250.00.
I'm all about coverage, so I'm more apt to strike a lower coin value with a full payline capture (in other words, playing all 25 lines).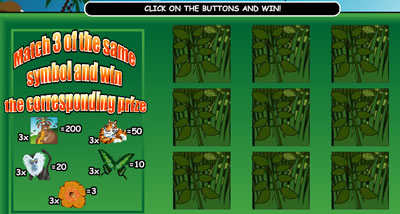 It's a nice change of pace from having all the payout weight on the feature symbols, but that's not to say the doubling wild isn't a nice touch!
All the Jungle King slot play is from left to right and/or right to left with the exception of the Jungle Scene scatter, which lands and pays out where it wants.
Jungle King Wild Symbol
The Jungle King slots Big Chief symbol is the Wild symbol. He's the only human in the bunch, so you'll know which one he is.
The wild Big Chief's domain is on Reels 1 and 5 only.
While this wild doesn't pay on its own, this generous Chief will double every winning combination he touches (Kind of like a half naked King Midas).
The Big Chief wild will substitute for all symbols, except for the Jungle scatter.
When the wild Big Chief arrives on Reels 1 and 5 at the same time, the Bonus Round is triggered.
Jungle King Scatter Symbol
The Jungle Scene symbol is the Scatter symbol.
Two or more Jungle scene scatters pay anywhere on the reels.
Jungle Scene symbols pay 200x your wager when you get 1 on each reel!
Jungle King Bonus Feature
The Jungle King Bonus Feature is activated when the Big Chief presides on Reels 1 and 5 at the same time.
A jungle scene will appear with symbol payouts on the left and 9 squares on the right.
Select each square in this Jungle bonus round until you match 3 symbols for a payout.
A match of 3 Big Chief's brings in 200 extra coins!
Grab a vine of your own and swing in to play Jungle King online slots, because it may be a jungle out there, but at least this one can be tackled in air conditioning!