Jungle Diva Online Slots
Play Jungle Diva Slots at the Following Recommended Casino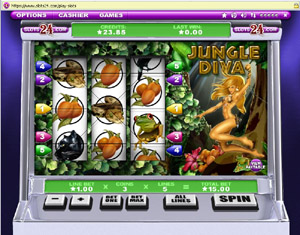 Jungle Diva is a scantily clad woman of the jungle, she swings from vines and carries a big knife. I've never heard of a better idea for a slot machine! Jungle Diva sports 3 reels of tropical fun. The game has 5 paylines on which you can bet up to 3 coins per line. Coins, as in all other slots, range from a penny up to a buck, bring the maximum bet up to $15 a spin. This is the biggest amount the 3 reel slots get.
Symbols include sevens, snakes, panthers, toucans, coconuts, and flowers. There is one wild, which is a picture of jungle diva herself. Wild jungle diva symbols substitute for all other symbols. There are two possible patterns to hit depending on the amount of paylines bet. There are straight across patterns and a diagonal pattern, the only way to win on this is to be betting all of the lines. Three jungle divas will catch you a handsome 1425 coins, definitely guaranteed to fatten your wallet!
You can reach the cashier from the game screen by clicking on the labeled tab. If you attempt to make a bet you do not have a large enough balance for, the game will automatically prompt you to go to the cashier or you can click cancel and make a smaller bet. Options are limited to sound and game speed along with game color, there are tons of colors to choose from and a total of 5 different speeds.