Jester's Jackpot Slots
Jester's Jackpot Slot - A 5 Reel 9 Payline Video Slot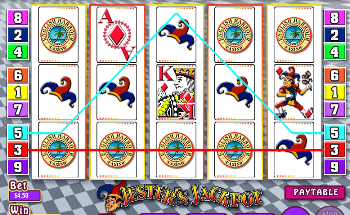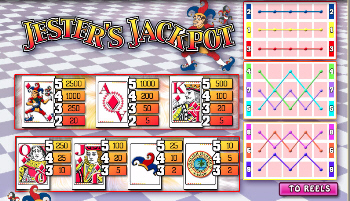 Jester's Jackpot slots have 5-reels and 9-paylines, you can find face cards, and with 5 Jesters on a paid line wins the 2,500 coin jackpot!
Jester's Jackpot online slots Wagering
The coin denominations are 1¢, 5¢, 10¢, 25¢, 50¢, $1, $5 and $10 per line.
Jester's Jackpot slots have no wild cards or wild jesters. It's just a 5 reel, 9 payline game that doesn't joke around when it comes to the top payout.
The Jester's Jackpot slot Jesters pay 2500 coins for 5 on any payline, as the highest paying symbol.
But in the Jester's Jackpot slot game game Aces are King, so to speak; when you line up 5 Aces on any payline and the payout is 1,000 coins (and that can be a laughing matter).
There's no kidding around in Jester's Jackpot online slots, just serious slot action and large payouts!
Play Jester's Jackpot slot to try to find your jackpot.