High Rollers Online Progressive Slots
High Rollers - A 3 Reel 1 Payline Progressive Slot Machine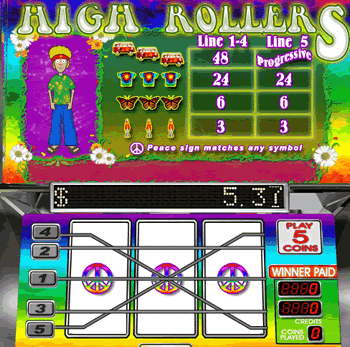 High Rollers slot is a 3 reel, 5 pay line, progressive jackpot game, with your choice of one to five coins wagering for each game. Coin size ranges from 5 cents up to $5.00, and you can play from 1 to 5 coins.
High Rollers slot Jackpot info: You must Bet 5 coins to qualify for local progressive jackpot!
High Rollers slot Wild Symbol: The Peace symbol is wild for all symbols
High Rollers progressive slots Jackpot: Hit 3 VW Buses on the 5th payline to win the local progressive jackpot!