Gold Pirates Online Slots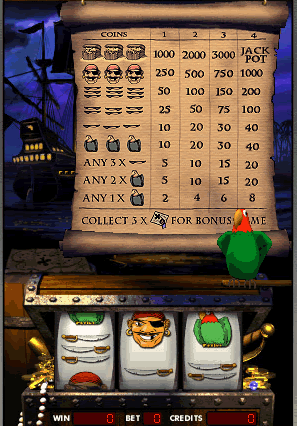 Gold Pirates
Gold Pirates- 3 reel, 1 pay line. Coin size ranges from 25 cents up to $5.00. You can play from 1 to 4 coins per line.
You must play 4 coins to win the progressive payout. Hit a map symbol on the first reel or 3 reel to collect 3 maps to activate bonus round.
Your maps will be stolen by the pirate when any pirate symbol hits on the payline. When the bonus round is activated a pirate digs up a treasure up to 100x your bet.
Hit 3 Pirates on the payline you win $1000.00 on a $4.00 bet.
Hit 3 Chest symbols to win the progressive!!!
Progressive start at $4,000.00 for a $4.00 per coin bet.
This progressive has lower jackpots amounts for lower coin bets.
Play Gold Pirates Online Slots at the Following Recommended Casinos.