Fruit Fantasia Online Slots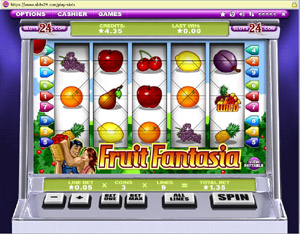 The most vegan friendly slot your going to find at slot 24, Fruit Fantasia is full of nutritional goodness, well. that and money! Fruit Fantasia is a 5 reel slot machine with 9 total paylines and takes up to 3 coins per go. Each coin can range in value from 1 cent to a dollar. This allows you to bet a max of $27 per spin.
Fruit Fantasia has one wild which will substitute for all other fruit symbols on the board. Five of these will also gain the top prize available which is a monstrous 6000 coins. The lowest paying item is they cherries which will actually pay out if you get two, all other symbols take at least 3 of a kind. You can view all available pay outs on the pay table along with the four different patterns that win. Try out Fruit Fantasia if you are looking for a chance at some big jackpots.