Fortunes of Egypt Online Slots
Underneath the rocks and sand lay untold fortunes just waiting to be unearthed. Welcome to Fortunes of Egypt, a 5 reel with 25 pay-line Boss online video slot game, for those with a lust for valuable antiquities, or just plain cash. Those of which can be found in its bonus game or the progressive jackpot, just waiting for you to grab.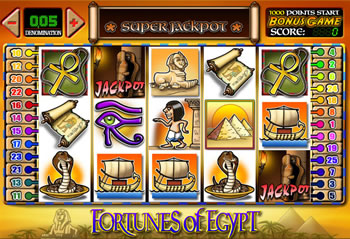 There are three jackpots to be won in Fortunes of Egypt, the values of which are shown in the games upper display. In order to win a jackpot, a player must bet the maximum number of credits per line.
Free Spins:
Three scatter symbols start 8 free spins.
Four scatters start 20 free spins.
Five start an amazing 100 Free Spins!
A Displaying "wild" symbol substitutes for all symbols excluding the scatter, jackpot and bonus symbols.
Bonus Game:
Accumulating 1,000 points will start the bonus game.
The objective of the bonus game is to reach the treasure by taking a safe across slabs without falling.
Credits are determined based on how far you get across the slabs.
A player can win from 100 – 50,000 credits!
Betting limits range from 0.01 to 250.00 credits. Bet the maximum for a chance to win up to 5,000 times your wager!
So put on that dusty leather jacket and don't forget the bullwhip,
Fortunes of Egypt online slots game awaits you!