Fortuna Online Slots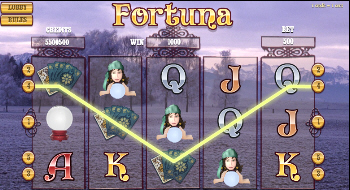 Fortuna 5 reel, 5 pay line
Fortuna is a 5 reel, 5 payline game that offers a feature game triggered by the Tarot Cards. When 3 or more Tarot Card symbols appear on a pay line the feature is activated and you go to a screen where you are presented with 24 cards face down.
The number of choices in the feature is equal to the number of tarot card symbols you lined up on the payline. Take your pick of any of the 24 cards available.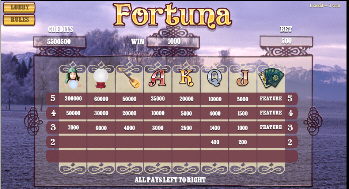 Here's the part I found interesting about this game. It doesn't matter what card you turn over, the amount you won is determined on the spin and is revealed to you by way of the cards. So it doesn't matter which card you choose, the amount won has already been determined and that is what you will be paid. I like this idea!
I'm always worrying and fretting about which card to choose and then get frustrated when I find I've picked the lowest paying spot which was sitting right next to the highest paying spot that I didn't pick!
There are no wild symbols in this game and the pay table is pretty straightforward. Since playing this game, I've gotten pretty good at telling fortunes too. I see big wins in your future when you play Fortuna!