Fifth Avenue Fling Online Slots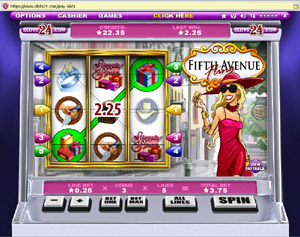 One of slot 24's five 3 reel slot machines, Fifth Avenue Fling is the most fashionable of the bunch sporting some designer items and a chic little character on the background. Fifth Avenue Fling features no wilds which make for some bigger top prizes. There are a total of 10 different symbols on the reels all will pay if you match two or more. Except in the case of the little dog, if you hit one of these he pays out no matter the other two symbols.
A three shopping spree symbol jackpot will bring in 600 coins, this is by far the biggest prize available. The next biggest win is three necklaces which only pays out 120 coins, that's a big difference between top prize and second. If you win big at Fifth Avenue, you really win big!
You can access the cashier and purchase more coins or cash out from in the game, if you try to make a bet that is to large it will prompt you to purchase more coins and increase your balance or just make a lower bet. You can also access a variety of game settings under the options tab or easily change games by clicking the game tab and finding your desired slot. A very straightforward and clean set up to navigate and have a great gambling session.