Extreme Games Online Slots
Are you the type of person that likes to jump out of an airplane naked or ski down a double black diamond slope blindfolded? If so, go to the Extreme Games; in its 5 reels with 25 pay-lines online video Boss slots, and take advantage of its bonus game and free spins which hopefully will leave you extremely rich!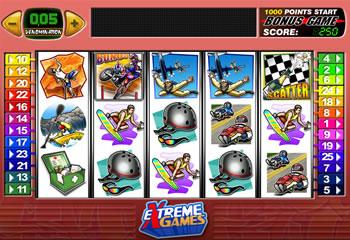 You can go to the extreme with Extreme Games winning features and symbols.
Free Spins:
Three scatter symbols start 5 free spins.
Four scatters start 10 free spins.
Five scatters start 25 extreme spins in this radical video slot.
Wild symbols substitute for all symbols other than the scatter and bonus symbols.
Bonus Game:
Accumulating 100 points will start the bonus game.
Choose a motor cross participant to jump as high as possible over a cross bar.
Each successful cross bar jumped will give you 100 credits!
Betting limits range from 0.01 to 250.00 credits. Bet the maximum for a chance to win up to 1,000 times your wager!
So dude, what are you waiting for? Let's get into these Extreme Games now!