English Harbour Online Slots
A 5 Reel 5 Payline Slot Machine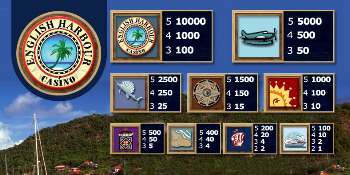 Play this special game at English Harbour online casino called, what else? English Harbour slots. Within its 5 reels and 5 paylines, players have the possible chance to win 10,000 coins on a single payline!
English Harbour online slots are just a bit different from the other 5 reel games, in that it only has 5 paylines. The coin denominations for this game are 1¢, 5¢, 10¢, 25¢, 50¢, $1, $5 and $10.
If you line up 5 English Harbour logos on any payline, the winning payout is 10,000 coins! There are no wild symbols or bonus features in English Harbour slots, just top dollar for lining up the top symbols!