Enchanted Fortune Online Slots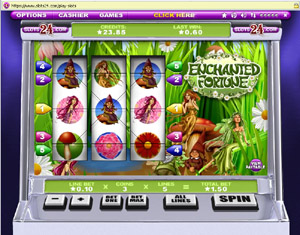 Enchanted Fortunes reels are full of cute little gnomes and pixies for your liking. The game sounds like you're in the middle of a forest and where else are you going to run across little people standing by mushrooms the size of them willing to pay you money! Enchanted fortune is a 3 reel slot machine with 5 pay lines. It's possible to bet up to 3 coins per line, coins range in value from a dollar on down.
Enchanted Fortune incorporates a wild symbol into the bunch. The wild symbol says enchanted fortune on it and can substitute for any symbol to make a winning line. Wilds are also the highest paying symbol with a chance of shelling out 450 coins on a max bet. Only the highest win per selected payline wins. You can select which paylines to play by clicking on each lines number, you can choose to play any number or all of them at once.
Game play wise the default speed is good unless you enjoy playing at a really fast pace. If you're into speed or just find the current speed a tad slow there are 5 different speed options under the options tab. The ultra setting is pretty fast, though not instant like a lot of slots on their fastest setting. All in all Enchanted Fortune is a mystical good time.