Dragon's Lair Online Slots
5 reel, 20 payline, progressive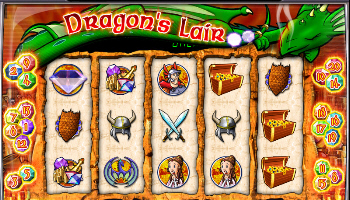 Dragons and damsels and gems and gold make up the theme for this 5 reel, 20 payline progressive slot game with a twist. There are wild symbols, scatter symbols and bonus games available for all who are willing to enter the Dragon's Lair. This game is available in 1¢, 2¢, 5¢, 10¢, 25¢, 50¢, and $1 coin denominations.
The Knight is the wild symbol and substitutes for all other symbols but the scatter and Diamond bonus symbol. The scatter symbol is the torch; 2 torches = 2x your bet, 3 torches = 5x your bet, 4 torches = 50x your bet and 5 torches = 500x your bet.
The Golden Damsel icon only appears on the 2nd, 3rd and 4th rows. If you line up the Damsel in one of three defined patterns you win a bonus. A damsel icon in the top and bottom position on reels 2 and 4 = 25x your bet, the damsel in the middle position on the 2nd and 4th and top and bottom position on the 3rd reel = 25x your bet. A damsel in the middle position on the 2nd and 4th reels and in all three positions on the 3rd reel wins 80x your bet! It's easier to understand if you look at the pay table. There's a chart to explain the positions.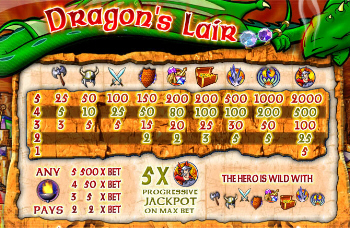 But we haven't talked about the Diamond Mine bonus yet! As you're playing Dragon's Lair, a diamond symbol will occasionally show up. Every time one shows on the reels, no matter what position, you collect a diamond ring on the dragon's tail. Once you've collected 4 rings, a bonus game is triggered. 5 spinning reels with different multipliers on them are presented and you click to stop the spins. You win the total of the multipliers on all 5 reels, which could be a really nice bonus!
Last but not least, did I mention this was a progressive game? 5 wild symbols while playing maximum bet for your coin denomination pays out the progressive jackpot.
It's fun and addictive but a word of warning… if you leave the game without gathering the 4 rings for the bonus round, you forfeits them. They will not be there when you come back, so make sure you have the right stuff and face the Dragon in his Lair for the special bonus round!