Double Dollar Diner Online Slots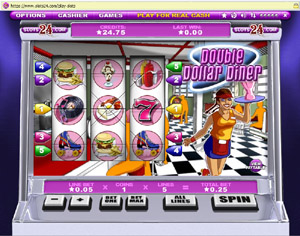 Double Dollar Diner, talk about triple word score! Double Dollar Diner is a 50's restaurant inspired 3 reel slot machine. Five paylines are open for betting and like all of the other machines you can bet up to 3 coins per spin making for a max bet of 15 coins. You can choose coin value from one dollar down to one cent.
Wilds are in play and can substitute for any symbol on the reels. Three wilds are worth 375 coins. Jackpots only pay on max coin bets, so it's a big incentive to bet all three. There are two patterns you can also win on which are viewable in the payout table. All other wins take 3 of a kind except for the record and ice cream sundae symbols which you can get two of and still win.
You can also turn sounds up or down in volume in the options by the cashier. Here you can customize game speed and color too which adds a nice touch to the whole experience, game on!
Play Double Dollar Diner Online Slots at the Following Casino