Double Diamonds 5 Line Online Slots
A 3 Reel 5 Payline Slot Machine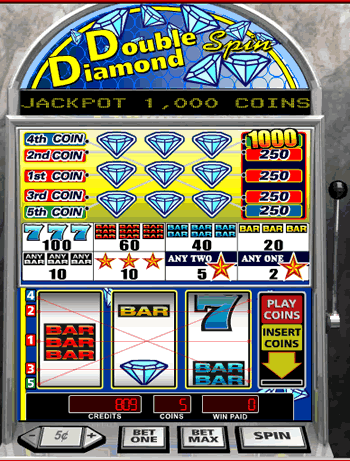 This is a 3 reel, 5 payline progressive game.
You must bet a coin on each of the 5 lines to qualify for the progressive jackpot.
Each coin denomination has its own progressive amount.
When you choose which game to play, the corresponding jackpot amount will display above the machine.
Choose one of these to play for the progressive Jackpots:
The 25¢ progressive is called the "Mini Jackpot"
The $1 progressive jackpot is called the "Max Jackpot"
The $5 progressive jackpot is called the "Mega Jackpot"
After you choose the game, you can play from 1 to 5 lines with 1 coin per line on each spin.
If you choose to play this progressive game, make sure you play all 5 lines to qualify for the jackpot!
There are no wild symbols; line up the diamonds on the 5th payline to win the jackpot.
You'll enjoy playing Double Diamonds no matter which jackpot you're playing for. In this game, Diamonds are everybody's best friend!