Deep Blue Treasure Online Slots
Play Deep Blue Treasure Slots at the Following Recommended Casino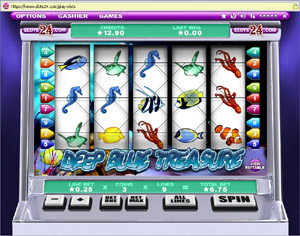 Deep Blue Treasure is an aquatic themed 5 reel slot including tons of different sea creature symbols. There are 9 different pay lines spanning the reels all which can independently be bet or bet as a whole. You can select all lines if you would like to bet everything and increase your chances of making a combination. Deep Blue Treasure also allows for up to three coins to be in play per spin with values up to a dollar per coin. This allows for a maximum of 27 coins per play.
Accompanying the sea life themed symbols is a very relaxing ambient soundtrack. The synth tracks are very soothing and a nice change from many of the other games. Deep Blue Treasure offers one of the few times you want to see a shark in the ocean. All sharks are wild and 5 of them while betting max gets a giant 6000 grand prize. This is the highest pay out available here.
There are lots of other ways to win, 4 or 5 of any fish will even pay. You can see a list of all patterns and symbols on the payout table, it's always a good thing to check before playing. Credits and wins are displayed above the reel for easy tracking. You can also change a variety of sound volumes and speed settings by click on the options tab.