Classic Bikes Online Slots
In the Classic Bikes slots there is a feature round and a jackpot to be won in its 5 reels and 9 paylines.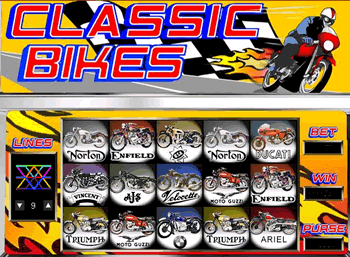 Coin size ranges from 1 cent up to $1.00. You can play from 1 to 9 lines.
In the Classic Bikes slot game, a Harley Davidson, is the feature game symbol.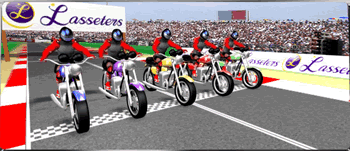 When three or more Harleys appear on a line which you are playing, the feature game will activate. The feature game has a Motor Bike Racing theme.
The Bikes are lined up ready to Race. Click on the one you think will win.
Once you choose, the bikes will race away, and a winner will be revealed.
•What you have won will be displayed on the screen
Hit symbols to win the jackpot of $20,000.00 on $9.00 bet!!!!
Classic Bikes has great payouts, a lot of very large possible wins!!!
Play Classic Bikes Online Slots at the Following Casino