Cashasaurus Online Slots
A 5 Reels 25 Payline Slot Machine
It's time to walk the dinosaur! Cashasaurus, a 5 reel 25 payline video slot from Wizard Gaming, drums out wilds, a fun caveman-style bonus game, scatters, and a 1,500 coin jackpot! Cashasaurus online slots is so easy to play, even a caveman could do it!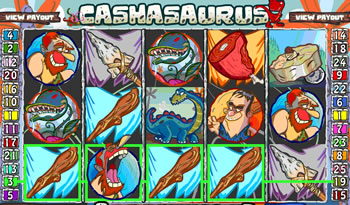 Win Cashasaurus bonus rounds!
Cashasaurus slots are so fun that you'll want to keep pounding that spin button in rhythm with the background music.
Purple dinosaurs, blue dinosaurs, and woolly mammoths--we may not know much about the creatures that roamed the planet 200 million years ago, but if we can learn anything from Cashasaurus slots, they certainly must have been tasty. And, as the bonus game will teach you, half the fun is in the pursuit.
In the Cashasaurus online slots wagering, you can select coin amounts ranging from 0.01 to 1.00 credits and from 1 to 10 coins per line, making the maximum bet of 250.00 credits per game. All Cashasaurus symbols pay from left to right except the Cavewoman scatter symbol, which pays anywhere, and the bonus symbol.
Cashasaurus Online Slots Wild Symbol:
Caveman Bob, the caveman with a beard, is the wild.
The Wild Caveman Bob symbol substitutes all symbols except the Cave Babe Scatter and the Caveman Gary Bonus symbols.
When five wild Caveman Bob symbols line up on a payline, you score the 1,500 coin jackpot!
Scatter Symbol in Cashasaurus Slots:
The Cavewoman symbol, or Cave Babe, is the Scatter symbol.
Three or more Cavewoman scatters have a payout.
Scatter wins pay as follows: 3 Cave Babe symbols quadruple your bet, 4 Cave Babe symbols multiply your bet by 20x, and 5 hot Cavewoman symbols multiply your bet 80x!
The Bonus Symbol in Cashasaurus Slots
The Caveman Gary symbol, the caveman with a club, is the Bonus symbol.
The Caveman Bonus symbol appears on reels 2, 3 and 4 only.
When the 3 Caveman bonus symbols appear, the Dino Bonus Round is triggered.
The Dino Bonus Round in Cashasaurus Online Slots
When three Caveman Gary symbols appear on reels 2,3, and 4, the Dino Bonus Round is activated.
A new screen will appear showing two rivals, a Caveman, a Dinosaur, and 8 different weapons to choose from.
Select a weapon to use against the Dinosaur.
Each weapon has the possibility of having a bonus amount, the booby prize, or the jackpot, which will award all other bonus amounts.
The game continues until three turns are used up or the Jackpot is found.
Go clubbing Mesozoic style, by playing Cashasaurus online slots!
Play Cashasaurus Online Slots at the Following Recommended Casinos