Card Shark Online Slots
Find out how you can be a shark at card playing, in Card Shark slots. This game has a set bet where everyone can play its max bet of forty-five cents and possibly win the progressive jackpot in the 5 reels and 9 pay-lines, and there are bonus rounds too.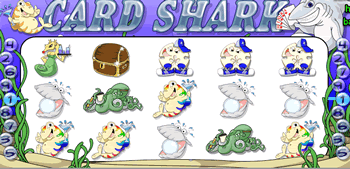 5 Reels 9 Paylines
The Card Shark online slots game has been changed to The Shark online slots. Check it out.
Card Shark- 5-reel, 9 line. Fixed coin size is 1 cent.
You can play from 1 to 9 Lines. And you can set number of coins per line from 1 to 5.
You must play Max bet of 9 lines and 5 coins per line, total of 45 cents per spin to win progressive.
Hit 5 "Starfish" on any max bet line and you win the progressive jackpot!
Hit three "Treasure Chests" anywhere on the screen and one will magically open, and you win the amount of treasure in the treasure chest
Get three "Card Shark" symbols anywhere on your screen and enter the card shark bonus round where you can play high/low with the card shark. Choose Higher or lower than the dealt, but remember Player loses ties and Aces are always high.
Each correct prediction wins an amount relative to your total bet on the spin.
The progressive jackpot total re-starts at $1,000 every time it's won.
Play Card Shark Online Slots at the Following Recommended Casinos