Bingo Slot Online Progressive Slots
Bingo Slot - A 5 Reel 25 Payline Progressive Slot Machine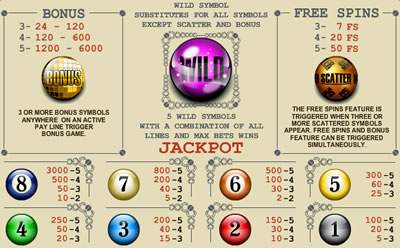 Since all 15 bingo balls spin independently, Top Game's progressive Bingo Slot is not your typical 5 reel 25 payline slot game. With a free spin feature, bonus features, a progressive jackpot, and plenty of wilds, this online slot won't be your typical playing experience either.
Bingo Slot progressive slots have colorful symbols, which include balls numbered 1 through 8, as well as the special Wild, Scatter, and Bonus balls. Balls 1 though 5 have payouts from 5 to 50 (starting with a series of three on a payline).
Coins won on three or more of Balls 6 through 8 double as you go up the line (so you'll want to cross your fingers for those).
Bingo Slot progressive slots wagering
Has coin sizes ranging from $0.05 to $3, so you can bet as little as $0.05 on one line, to as much as $75 on all 25 lines. Maximum jackpot is 600 coins, and you'll need five 8's on a payline to grab it. Symbols pay left to right except for gold scatters.
Bingo Slot Wild Symbols
The purple Wild Ball is the Wild symbol, and it can appear anywhere.
The purple Ball wild symbol subs for everything except Scatter balls and Bonus balls.
Get 5 wild purple balls on a payline with max bet and win the Progressive Jackpot!
Bingo Slot Scatter Symbols
The orange Scatter Ball and the gold Bonus Ball are the Scatter symbols.
Three or more orange Scatter balls anywhere on the reels will result in Free Spins.
Three or more gold Bonus balls anywhere on an active payline will activate the Bonus Feature.
Bingo Slot Free Spins
When 3 or more orange Scatter balls appear, Free Games will trigger as follows.
3 orange scatters award 7 free spins.
4 orange scatters award 20 free spins.
5 orange scatters award 50 free spins!
Bingo Slot Bonus Feature
Three or more gold Bonus Ball symbols trigger the Bonus Feature.
When it is triggered, a different screen will load in featuring a Red suit side and a Black suit side, and a blank playing card in the middle.
Select which card you think will give you a higher win (see rules for actual game play).
Bingo Slot Bonus Feature note: Depending on how many Bonus symbols appeared to trigger the Bonus Feature, you can win from 24 to the maximum amount of 6000 coins!
While the myriad of spinning balls takes some getting use to in this Bingo Slot game, you'll find the same standard features of most Top Game slots. The Auto-play feature is easy to find and easy to set to a designated number of spins (from 5 to 9999).
The Bingo Slot slots pay table can be referenced by selecting a button and a floating line payout screen pops up above the Win button section with every score. Also, the Bonus Feature and Free Spins can be triggered simultaneously!
Play Bingo Slot progressive slots to play its original bingo feature or to try to win its progressive jackpot!