Best of Show Online Slots
Find out how fun the Best of Show slots can be while winning with wilds and a bonus round its 5 reels with 25 paylines, within this traditional spinning game.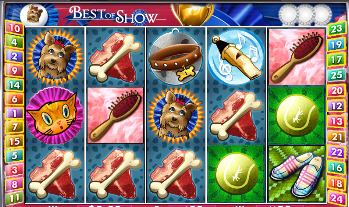 Best of Show is a great change from the normal slots game, but you have got to be committed to playing the game through to reap the full rewards that are available. The coin denominations are 1¢, 2¢, 5¢, 10¢, 25¢, 50¢, and $1 and needs to be considered before playing. It could take a while to cycle through the bonus features so plan accordingly!
When you start the game, you choose your dog from a selection and there are all types to suit any dog fancier's taste. The dog you choose becomes the scatter symbol in an involved bonus game. The scatter symbols only show on the 1st, 3rd and 5th reel. There is a wild symbol in the form of a trophy and can substitute for all symbols but the scatter.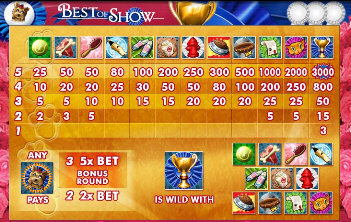 The bonus game is actually in three phases. Every time you collect 3 scatter symbols, you are entered into one of three dog shows: New York, London or Tokyo. Once you are in any of these dog shows and again collect the three scatter symbols, you go directly to the Pick a Winner bonus round. Here you are presented with 5 rounds of 2 dogs. You have to choose the dog you think will win the contest. If the judge agrees, you win a bonus amount; if you choose the wrong dog you still win a consolation amount. This continues for all 5 rounds.
Then you are presented 3 shaded areas that obviously hold ribbons. The ribbons are 1st, 2nd and 3rd place and these help determine the number of spins you collect in the final bonus. Choose a ribbon and it will be placed in the upper right corner. 1st place awards the most spins, then 2nd place and then 3rd place. Once you choose your ribbon, you go back to the game to collect 3 more scatters and attend the next dog show. This process cycles three times. Once you have collected three ribbons, you go shopping at the doggie mart. Your spins are determined by the ribbon placement of the 3 you chose in the bonus rounds.
It is possible to win some high amounts in this round, but it does take a while to get there. Consider the investment and how well the game is paying before committing yourself to the end of the game. If you leave before having collected all three ribbons, you lose the ribbons and have to begin again when you start a new game.