Bay Patrol Online Slots
Bay Patrol online slots game shows you the beach, the boats and some waves in between in its 5 reels with 25 pay-lines of Boss software action. There are not many babes in this game, but there is a boat-load of fun and cash to be made in its free spins, bonus game and three levels progressive jackpot!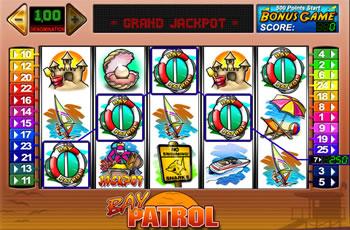 There are some wet looking symbols in this slot game, such as; the Clam with a Pearl symbol, the Sand Castle symbol, the Swim Mask and Flippers symbol and the No Swimming – Sharks symbol. There is also the Life Ring symbol, the Jet-ski symbol, the Boat symbol and the Beach Chair and Umbrella symbol. We saved the best for last, with the wild Surfer symbol, the Bonus Race symbol, the Jackpot symbol and the Free Spins symbol with a couple of beach goers in the picture.
The Bay Patrol wagering will not make you wet; with coin sizes ranging from 0.01 credits up to 1.00 credits and the coin amounts can be set from 1 to 5 coins per line. The maximum bet is set at 125.00 credits per spin. All symbols pay from left to right, except scatters and the Bonus Race symbol.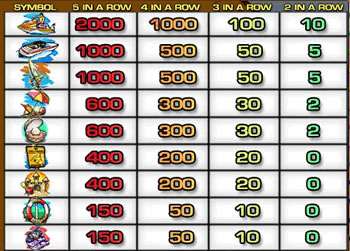 Wild Symbol:
The Wild Symbol is the Surfer symbol.
The wild symbol substitutes for all symbols; except Free Spins, Bonus Race and Jackpot symbols.
Scatter Symbol:
The Scatter Symbol is the Free Spins symbol.
Three or more scatters anywhere on the 5 reels activate Free Spins.
Free Spins:
Free Spins are activated when 3 or more scatters appear.
3 scatters = 10 free spins.
4 scatters = 25 free spins.
3 scatters = 100 free spins.
All payouts are doubled during free spins except the bonus.
Free spins can be re-activated during free spins.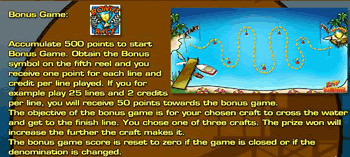 Bonus Game:
The Bonus Race symbol will appear in the 5th reel only, awarding Bonus Points each time it appears.
The Bonus Race bonus round is activated when 500 Bonus Points have been reached.
A new window will appear, with a water slalom race course and 3 water crafts to choose from.
Choose one of the water crafts at the top of the window, which you think will finish the water slalom race course on the screen.
After your chosen water craft has hit one of the water buoys, the bonus round is over.
The amount of credits shown will be awarded.
Jackpot Symbol:
The Jackpot Symbol is the Jackpot symbol.
3 Jackpot symbols on a pay-line award the Jackpot amount displayed at the top of the screen.
4 Jackpot symbols on a pay-line award the Super Jackpot amount.
5 Jackpot symbols on a pay-line award the Grand Jackpot!
Grab some credits, choose your favorite water craft and head on over to Bay Patrol slots; for the ride of your life in this wet and wild online slot game!