Aztec Rising Online Slots
Come play the Aztec Rising slot game, with its 5 reels and 25 pay lines and scatters towards free games, wilds and pick a prize feature.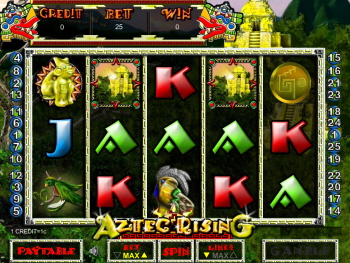 In this game there is an Aztec temple rising above the trees, exotic birds clinging to nearby branches, leopards leering through the jungle foliage and bright shimmering coins are found to bring you a great fortune. The minimum bet is one cent per line and the maximum bet is 1250 cents or 50 cents per line.
Many surprises await you while playing Aztec Rising online slot game. The Wild Symbol is an Aztec Temple icon that doubles most all paying symbols. The Calendar symbol shows an exotic Aztec symbol of a calendar god, where if you get three of these symbols you will be taken into the Prize Pick Feature. The Scatter symbol is a shiny golden coin with Aztec markings, and when 3 or more appear on the five reels the Free Games Feature will be triggered.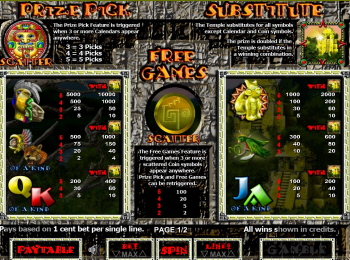 Wild Symbol:
The wild symbol, in Aztec Rising, is an Aztec Temple symbol that doubles all other symbols on a payable line except for the Calendar and Scatter symbols. When the wild symbol is matched up on a pay line with the highest paying symbol, making five with the wild on a pay line, the maximum of 10,000 credits can be won or up to $5,000 on maximum bet.
Prize Pick Feature:
This feature is activated when 3 or more Calendar scatters appear anywhere on the five reels in Aztec Rising. You will be automatically taken to the Prize Pick Feature. There are five Calendars to choose from where you can receive 2x your bet and up to 100x your bet. When you get 3Calendar scatters on any of the five reels, you will get 3 prize calendars to choose, with 4 scatters you will have 4 prize calendars to choose and with 5 Calendar scatters you can choose each of the five calendars in the Prize Pick Feature. Imagine how many credits you can receive with picking all five.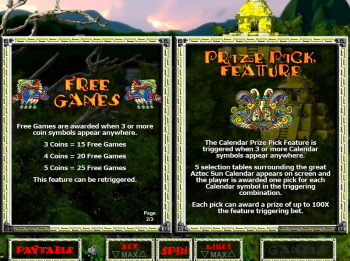 Free Games Feature:
This feature is triggered in Aztec Rising, when three or more coin scatter symbols appear anywhere on the five reels, starting 15 Free Spins. When 2 coin scatters appear your payout is doubled. When 3 coin scatters appear you will receive 5x your bet. When 4 coin scatters appear you will receive 20x your bet and when all 5 coin scatters appear on the five reels you will receive 100x your bet. Wow, now that can add up to a lot of coins. Free Spins and the Prize Pick Feature can be reactivated during Free Spins.
Get a raise with your credits now by making your credits rise in this fun online slot game, Aztec Rising.