Zodiac Scratch Off Game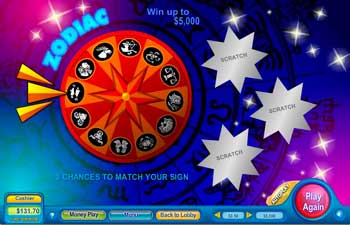 Spin the Zodiac instant win reel to see if you can match the Zodiac symbol to one of three revealed symbols on the left. You can choose to spin the wheel first, and scratch the symbols later or vice versa. You can also choose to have both done simultaneously with the "Scratch All" feature. No knowledge of the Zodiac is necessary to win.
The Zodiac instant-win game has an assortment of wagering options. Card prices start at $.50 and go up to $10.00. As the price of the wager goes up, so does the maximum amount of the jackpot, from $5,000 to $100,000. The jackpot pays out 10,000x the wager.
You don't need to know your sign to pick a winner, just play the Zodiac online instant game at the following recommended online casinos.