Super Chance Scratch Off Game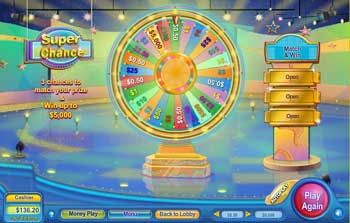 Super Chance is a Wheel-of-Fortune-esque online instant win game gives you three chances to win up to $100,000 instantly. Once you choose a wager, the object of the game is to win the Super Chance wheel and have it land on one of the three amounts revealed on the right-hand side of the game. If it does, you get to keep the amount it lands on.
Wagers in the Super Chance instant-win game range from $.50 to $10.00 per card. Choose your card price wisely, as the jackpot's highest value is determined by the amount of your wager (jackpots pay out 10,000x the bet amount).
Change your fortune. Play the Super Chance online instant game at the following casinos.