Spy Comics Scratch Off Game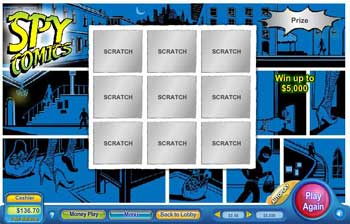 Scratch your way to a $100,000 jackpot with the Spy Comics online scratch game. Playing the game is as easy as choosing your wager and selecting four of the nine available squares to find three identical icons. The icons do not have to be adjacent to deliver an instant win.
Card prices will range from $.50 to $10.00 per game. The amount of jackpot available is dependent on the amount of the wager, since the jackpot pays 10,000x the bet.
Play the Spy Comics online scratcher and be your own hero. Spy Comics online scratch cards are available at the following recommended casinos.