Splash Cash Online Scratch Offs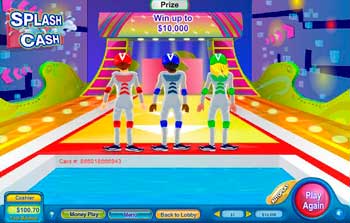 Play Splash Cash, an obstacle-course sports-themed online instant game, and you could win up to $100,000 when your selected contestant wins!
It's the best possible situation in Splash Cash scratch cards—you select the contestant and if he or she wins, you take all the money. And if he or she loses, you get to be grateful it's not you being pushed into the swimming pool.
To play Splash Cash scratch tickets, select your card price between $.50 and $10.00 and pick which of the three contestants you believe has the chops to win. You can also let the game choose for you.
Splash Cash scratch cards are just one of several sports-themed online instant games available at the following scratch-off sites.