Shoot N' Score Online Scratch Offs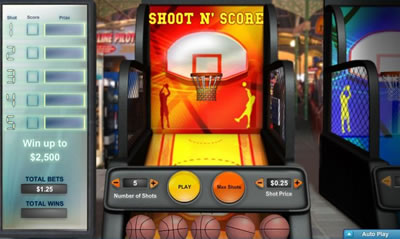 Shoot N' Score scratch cards are basketball-inspired online scratch-off games, where you can play five free-throws for a chance to win up to $200,000! Shoot N' Score scratch game, one of NeoGames instant-win line-ups, shows you everything you love about the classic arcade game with five chances to "score" the big jackpot!
Before you play Shoot N' Score, as with any online scratcher, you'll need to determine how much to stake. You can adjust your bet by adjusting the number of shots, up to five, and the price of each shot, from 0.25 to 10.00 credits.
If you play all 5 shots in Shoot N' Score scratch cards, your minimum bet will be 1.25 credits and the maximum bet will be 50.00 credits per game. The more you wager in this game, the higher the potential jackpot; which adjusts on the left-hand side as you change your bet.
Once you've determined your bet in Shoot N' Score online scratch cards, the next thing to decide is whether you are going to shoot your balls one at a time or all at once. There is no aiming involved, so the speed has nothing to do with the outcome.
As you shoot each ball, the prize is revealed, and you can see what you did or would have won, depending upon whether or not you made the basket.
Shoot N' Score online scratch cards are just like the scratch games you'd get at your local convenience store, with a bit more animation and flare thrown in. You can activate the Auto Play feature for even more instant (and mouse-free) gratification.
Play Shoot N' Score instant win game and take a walk down the arcade memory lane!