Royal Poker Scratch Off Game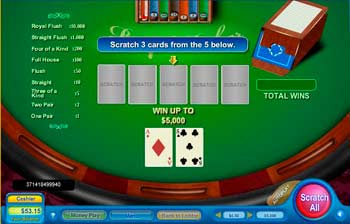 Get 10,000x your wager when you get a Royal Flush with Royal Poker, an online scratch game that lets you pick which cards to scratch. You only need one pair to break even with Royal Poker, and with two cards dealt to you at the start of each game, you get to pick the next three out of five possible cards.
There is no dealer in the Royal Poker online scratch game; it's just you and the cards. The better poker hand you can make, the more you can win.
Card prices for Royal Poker start at $.50 and go to $10.00 each.
Play Royal Poker and other online instant poker games today at the following fine online casinos.