Roulette Scratch Off Game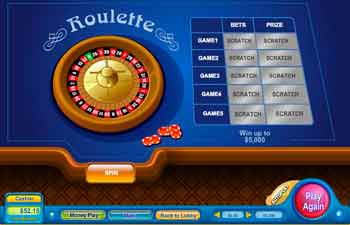 Get five chances to win up to 10,000x your wager (up to $100,000!) with Roulette, an online scratch game from NeoGame Software. As an online instant game, Roulette has never been easier. All you need to do is place your wager and scratch off the numbers as the Roulette wheel spins. If you reveal the number the Roulette wheel happens to land on, you win the corresponding prize, up to 10,000x your wager.
Speaking of wagers, you can play for as little as $.50 (for a $5,000 max prize) or as much as $10.00 (if you really want to go after that $100,000 jackpot).
Roulette is one of many instant casino games available from NeoGame software. Play online scratchers for free or real money today at the following casinos.