Road Racing Scratch Off Game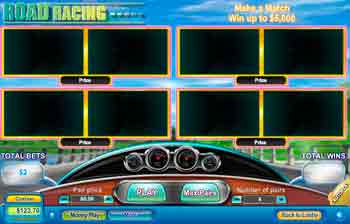 Road Racing is an online scratch card matching game with a Grand Prix jackpot worth up to $100,000! The premise of the game is as simple as they come. Each card features up to four available pairs. The object is to reveal a match in one or all of the pairs. If a pair matches, you win the prize featured below the vehicles.
To determine your total wager, first pick the price you'd like to pay per pair (from $.25 to $10.00). Then decide how many pairs you'd like to play in the game (from 1 to 4). In this way, the minimum bet on a four-pair card is $1 and the maximum bet is $40.00. Remember, though, the more you bet, the higher the jackpot is as it pays out 10,000x your per-card wager.
Play Road Racing scratch cards at your favorite NeoGame casino today, or find a new favorite among the list below.