Scratch 2 Cash
Play Scratch 2 Cash games now!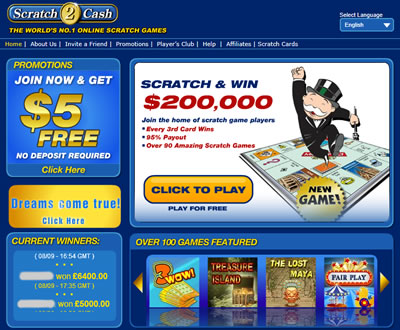 If you're looking for online instant win games, Scratch2Cash offers over 70 real money and free online scratch games with a promise to its players that every 3rd card is a winner! Scratch2Cash also claims a 95% payout percentage.
Powered by NeoGames, Scratch2Cash delivers a variety of online scratch games to players around the world. It was founded in 2005 and offers its games and services in nine different languages.
Scratch 2 Cash Promotions
On top of welcome bonus matches and free cash incentives, Scratch2Cash also offers several ways to keep both current and new players coming back for more online scratch games.
Daily Bonus Matches: Every day, Scratch2Cash offers its players bonus matches ranging from 10% to 100%. All you need to do is log into your account to see what they are currently offering.
New Game Specials: Scratch2Cash is constantly coming up with new online scratch games, and with each new online scratch game release comes a new Scratch2cash bonus offers like free play, match-up bonuses, and free bonus cash.
Cashback Offers: Your losses are covered with Scratch2Cash's Cashback program, which gives you anywhere from 10% to 100% of your losses (from one or all your games that day). To qualify, all you need to do is deposit and play online scratch games.
Online Scratch Off Tournaments: Whether you win because you played the most or because you won the most, online scratcher tournaments are a great way to win great prizes at Scratch2Cash.
Suzie's Surprise: Every time you make a deposit into your online scratch game account, sweet Suzie will reward you with a surprise bonus amount if she happens to be around.
Raffles: Enter one of the many raffles Scratch2Cash offers and win a chance to drive away in a new car, or load up your wallet with cash, or take the vacation of your dreams.
Club Pearl: This exclusive club gives qualifying players the best bonus matches as well as a fast track to withdrawals, featured games, tournaments and more.
As always, makes sure you read all the terms and conditions.
Scratch 2 Cash Games
While most of Scratch2Cash's eggs are in the online instant win games basket, they also offer a few online slots to help mix things up. They realize, however, that if players are coming to Scratch2Cash, they aren't coming for the slot play. If you really want to shake up your online instant game fortunes, though, Scratch2Cash has several wide-ranging online scratch games to choose from. For instance:
Fantasy Scratch Games: One of the more popular online scratch-offs, Fantasy scratch games feature avatars, mystical graphics, and a bit of magic. Games like Spy Comics and The Faire Tale give both adventure and whimsy to online scratch games.
Sport Scratch Games: Whether you like bowling, darts, or football (err…soccer for you Americans), Scratch2Cash tickles your itch with online scratchers and instant win games.
Casino Online Instant Games: With simple online slots, keno, and bingo, Scratch2Cash has an assortment of Instant Games available when you need a break from online scratch cards.
Online Slot Games: With games like Monte Carlo and Monaco Glamour, you can get your online slot games fix while you're playing your favorite online scratchers.
Scratch2Cash claims to introduce a new game about every 2 weeks, so create an account and check back often to see what else they have to offer.
Scratch2Cash is a wholly-owned subsidiary of Malta-based NG International Ltd and is licensed by the Lotteries and Gaming Authority of Malta.