Hopa
Play free instant win games and free online scratch games at Hopa, a online game site with a growing catalog of over 70 games. Available in a no-download format, Hopa's free online instant games can also be played for real money, an option that gives players eligibility for bonuses, free cash, and additional prizes.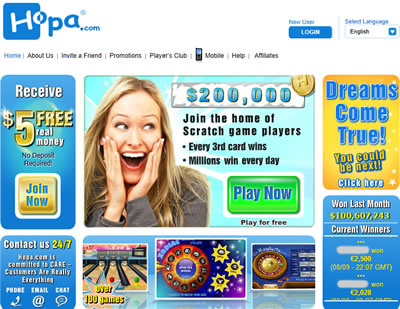 You can play free online scratch games at Hopa and pass the time for sheer entertainment's sake or you can make a deposit and put those instant win games to work for you.
Accessible in nine world languages, Hopa and its online scratch games are powered by NeoGames and come with six years of online instant win games experience.
Hopa Scratch Card Promotions
Hopa offers competitive welcome bonus packages for its new online scratch off players that sometimes include deposit matches and free cash. On top of enticing new players, Hopa also keeps current players returning with the following offers:
New Game Specials: Hopa's instant win game list is constantly growing, and with each new scratch game addition, it launches a series of specials to go with it. Players can often get free game play, free cash, and free bonus incentives for checking out the newest game on the block.
Cashback Offers: Hopa offers a cashback program will give you up to 100% of your losses right back to you on one or all of your games on a given day.
Club Pearl: Club Pearl gives eligible players the best of the best in deposit bonuses, exclusive tournaments, first play access to new games, and a fast track to quicker withdrawals.
Daily Bonus Matches: Every time you deposit, you are eligible for a bonus match from 10% to 100%, depending on the day and the any additional surprise offers from Suzie.
Online Scratch Off Tournaments: Hopa often hosts scratch card tournaments in which the winners are determined by the most played or the most won (don't worry, they'll tell you the rules before you start). Online scratch game tournaments are a great way to win big prizes and big bragging rights.
Raffles: Make sure to enter one of the Hopa raffles for a chance to win cash and prizes.
Make a point to read all the terms, conditions, and wagering requirements (if any) before you participate in any of the above promotions to be sure you can hold up your end of the bargain.
Hopa Scratch Off Games
Hopa is an instant win games site, but that doesn't mean that's all it has to offer. You'll also find a few online slot games, as well as some instant casino games, in its line-up. Not to worry, though, the majority of Hopa's games are of the instant-win and online scratch game variety. Speaking of variety, here's a taste of what you can expect at Hopa:
Fantasy Scratch Games: From Memory Madness to Candy Tale, Hopa offers page after page of online scratch games and instant win entertainment. I found Fast Hands to be a particularly fun game of online Rock-Paper-Scissors.
Sport Scratch Games: Whatever your sports affiliation, Hopa has an online scratch card to match it. Try Road Racing or Splash Cash to get the rush of the win without the energy burn.
Casino Online Instant Games: All of your casino game favorites in an easy-to-play online scratch card format. Slots, Roulette, Royal Poker, and many more await you!
Online Slot Games: Choose from several 3-reel and 5-reel slots, like Monte Carlo, Dino, and Castle Slot.
Hopa instant wins line-up is constantly changing, so check their site often to see what new games (and promotions) are on the list.
Hopa is licensed by the Lotteries and Gaming Authority of Malta and is a wholly owned subsidiary of Malta-based NG International Ltd.