Ready Set Go Scratch Off Game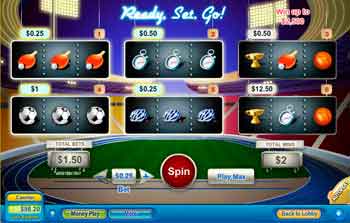 Ready Set Go gives you six chances to match three symbols for jackpots up to $100,000. Like a cross between an online instant game and an online slot game, Ready Set Go let's you spin up to six different sets of sports-themed reels for a chance to get three identical symbols on a payline. Each one comes with its own prize and multiple wins are possible per game.
To play, select both how many reels you'd like to spin (one through six) as well as how much you'd like to wager on each of the reels (from $.25 to $10.00). With all six selected, wagers will range from $1.50 to $60.00 per game.
Ready Set Go instant-win game combines all of your favorite sports with two of the most popular online gaming options. What more could you ask for? Play it today at the following online casinos.