Master Mix Scratch Off Game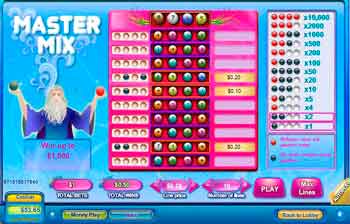 Win up to 10,000x your wager when you play Master Mix, an online instant win game with up to ten chances to win each game. To win the 10,000x jackpot, you'll need to match all the balls in both color and position. To win any money at all, you need to hit at least the same numbers within the lines.
Master Mix is a compilation of bingo, keno, juggling, and pattern play. The object is to match as many elements as possible, be they numbers or positions, to get a prize. The more you match, the bigger your prize.
Line prices start at $.10 and go to $10.00, and you can play from one to ten lines at a time. Minimum bet with a full card is just $1.00, and maximum bets go as high as $100 per game.
Play Master mix for free or real money at the following casinos.