Lucky Eggs Scratch Off Game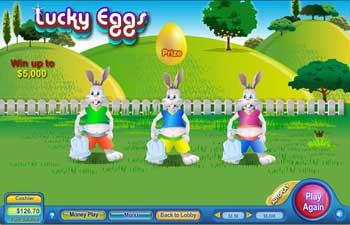 Lucky Eggs is an Easter-themed online instant-win game with a jackpot up to $100,000. All you need to do to have a chance at the big money is to pick which of three rabbits has a bag full of prize-winning eggs. You also have the ability to have the game choose the rabbit for you. The prize in the golden egg (above the middle bunny) is revealed regardless of a win.
Each instant win game has a range of wagers to choose from, starting at $.50 and going to $10.00. Since the jackpot pays out 10,000x your bet, how much you wager each game will impact the size of the jackpot, which can be from $5,000 to $100,000.
Play Lucky Eggs online instant game at the following recommended casinos.